UNITED STATES
SECURITIES AND EXCHANGE COMMISSION
Washington, D.C. 20549
SCHEDULE 14A
Proxy Statement Pursuant to Section 14(a) of
the Securities Exchange Act of 1934 (Amendment No. )
Filed by the Registrant x
Filed by a Party other than the Registrant ¨
Check the appropriate box:
| | | |
| --- | --- | --- |
| | ¨ | Preliminary Proxy Statement |
| | ¨ | Confidential, for Use of the Commission Only (as permitted by Rule 14a-6(e)(2)) |
| | ¨ | Definitive Proxy Statement |
| | x | Definitive Additional Materials |
| | ¨ | Soliciting Material under §240.14a-12 |
California Water Service Group
(Name of Registrant as Specified In Its Charter)
(Name of Person(s) Filing Proxy Statement, if other than the Registrant)
Payment of Filing Fee (Check the appropriate box):
| | | |
| --- | --- | --- |
| | x | No fee required |
| | ¨ | Fee paid previously with preliminary materials |
| | ¨ | Fee computed on table in exhibit required by Item 25(b) per Exchange Act Rules 14a-6(i)(1) and 0-11 |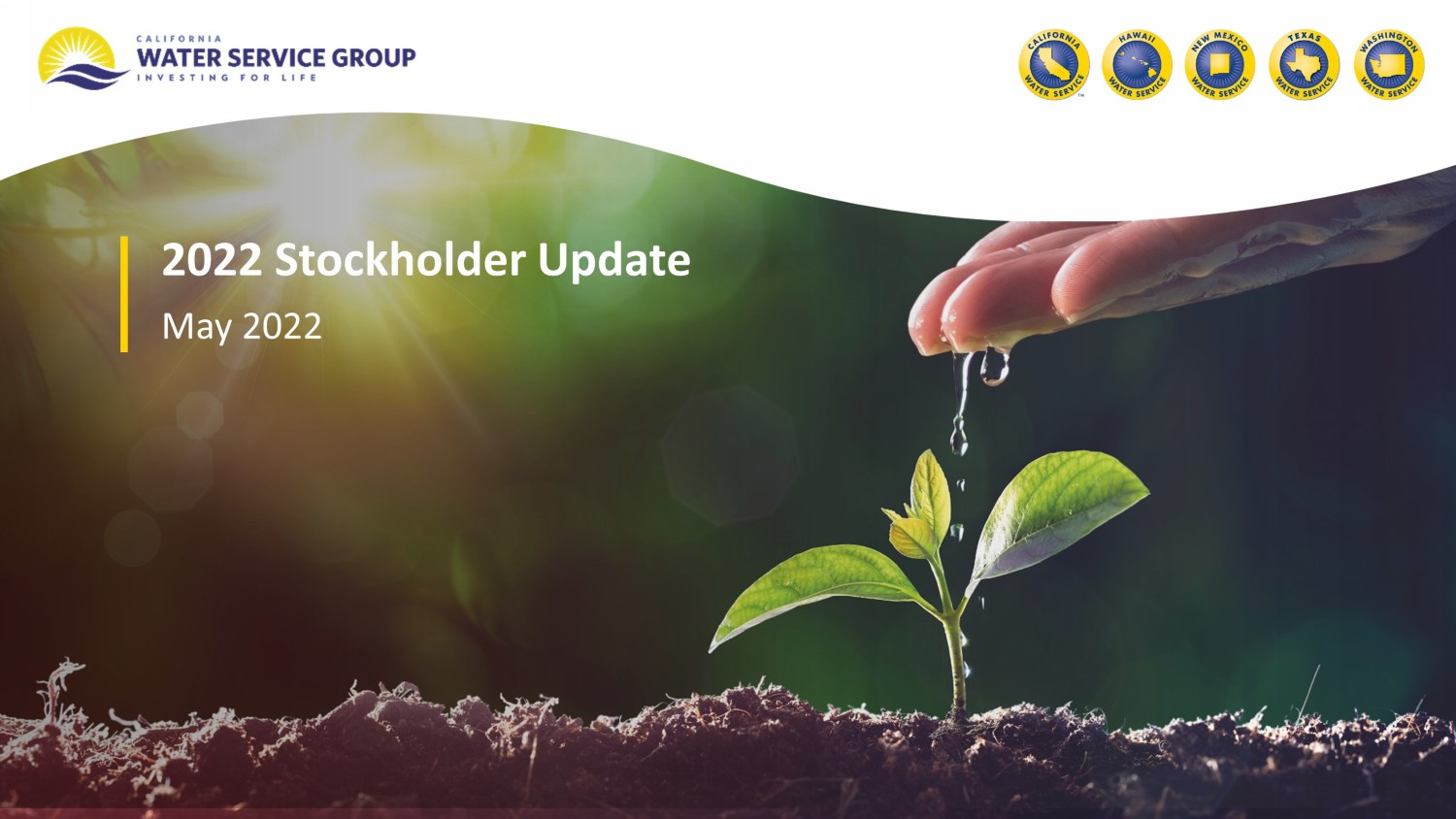 2022 Stockholder Update May 2022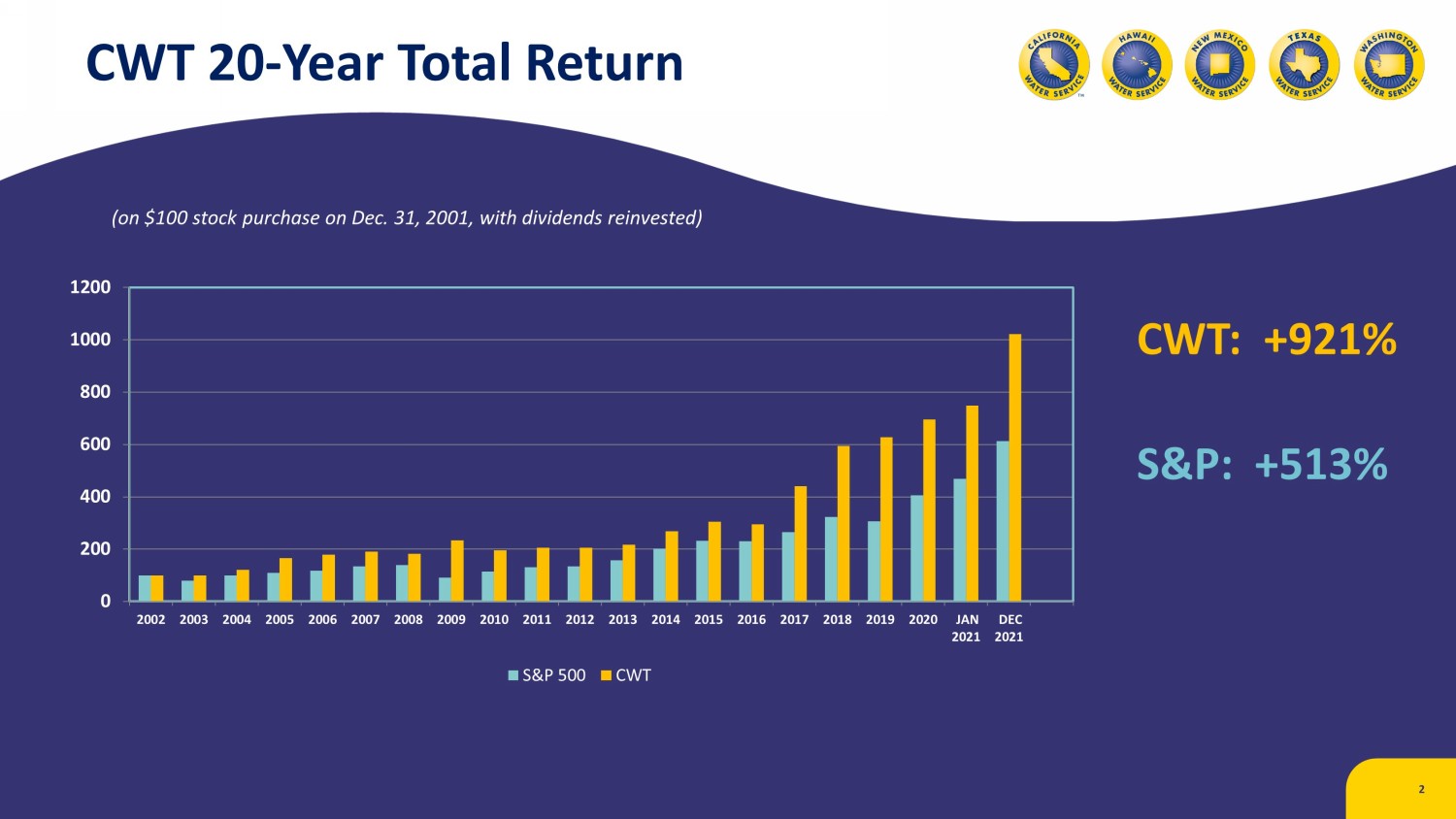 CWT 20 - Year Total Return 2 CWT: +921% S&P: +513% (on $100 stock purchase on Dec. 31, 2001, with dividends reinvested) 0 200 400 600 800 1000 1200 2002 2003 2004 2005 2006 2007 2008 2009 2010 2011 2012 2013 2014 2015 2016 2017 2018 2019 2020 JAN 2021 DEC 2021 S&P 500 CWT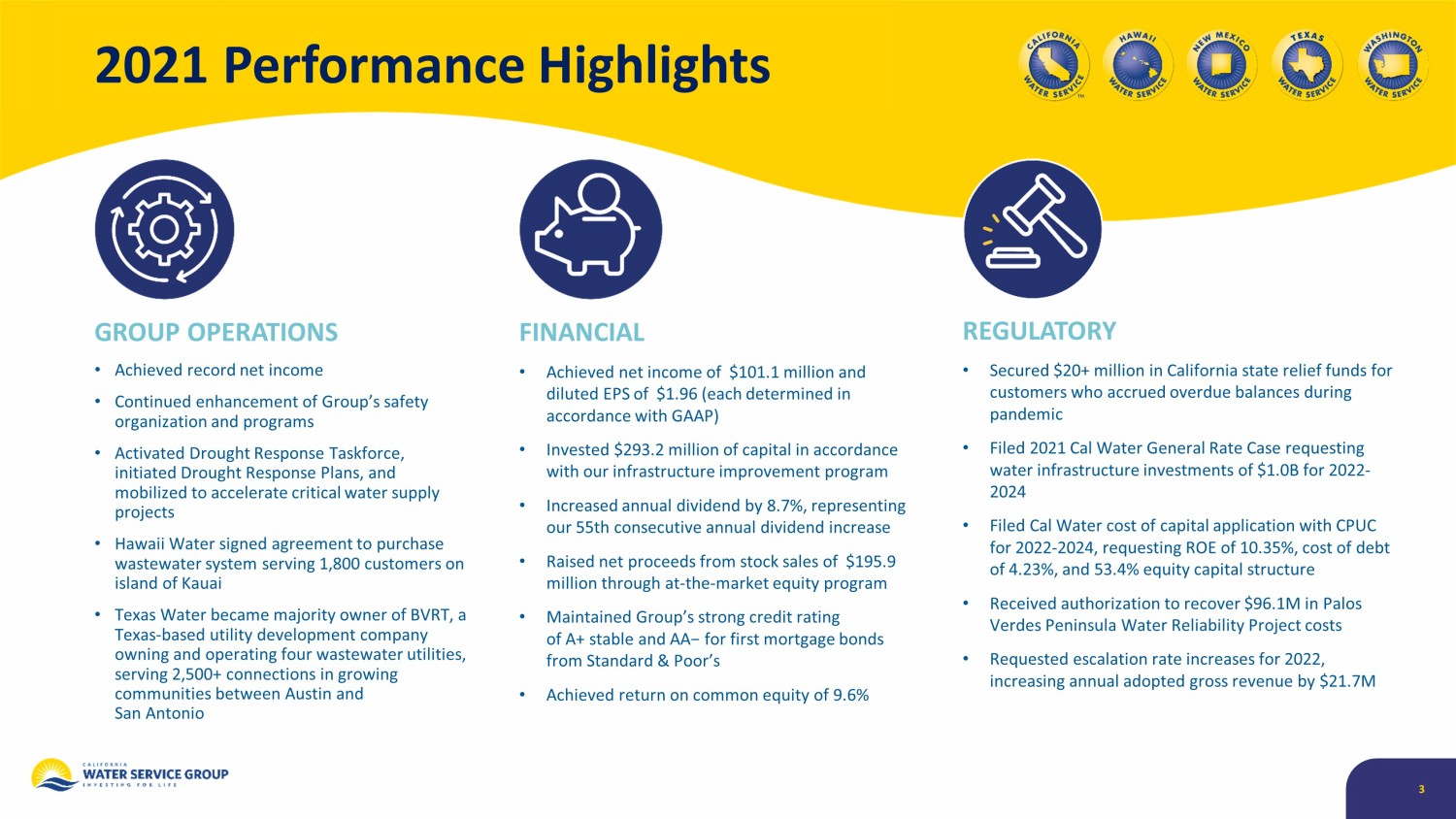 3 2021 Performance Highlights GROUP OPERATIONS • Achieved record net income • Continued enhancement of Group's safety organization and programs • Activated Drought Response Taskforce, initiated Drought Response Plans, and mobilized to accelerate critical water supply projects • Hawaii Water s igned agreement to purchase wastewater system serving 1,800 customers on island of Kauai • Texas Water became majority owner of BVRT, a Texas - based utility development company owning and operating four wastewater utilities, serving 2,500+ connections in growing communities between Austin and San Antonio FINANCIAL • Achieved net income of  $101.1 million and diluted EPS of  $1.96 (each determined in accordance with GAAP) • Invested $293.2 million of capital in accordance with our infrastructure improvement program • Increased annual dividend by 8.7%, representing our 55th consecutive annual dividend increase • Raised net proceeds from stock sales of  $195.9 million through at - the - market equity program • Maintained Group's strong credit rating of A+ stable and AA− for first mortgage bonds from Standard & Poor's • Achieved return on common equity of 9.6% REGULATORY • Secured $20+ million in California state relief funds for customers who accrued overdue balances during pandemic • F iled 2021 Cal Water General Rate Case requesting water infrastructure investments of $1.0B for 2022 - 2024 • F iled Cal Water cost of capital application with CPUC for 2022 - 2024 , requesting ROE of 10.35%, cost of debt of 4.23%, and 53.4 % equity capital structure • Received authorization to recover $96.1M in Palos Verdes Peninsula Water Reliability Project costs • R equested escalation rate increases for 2022, increasing annual adopted gross revenue by $21.7M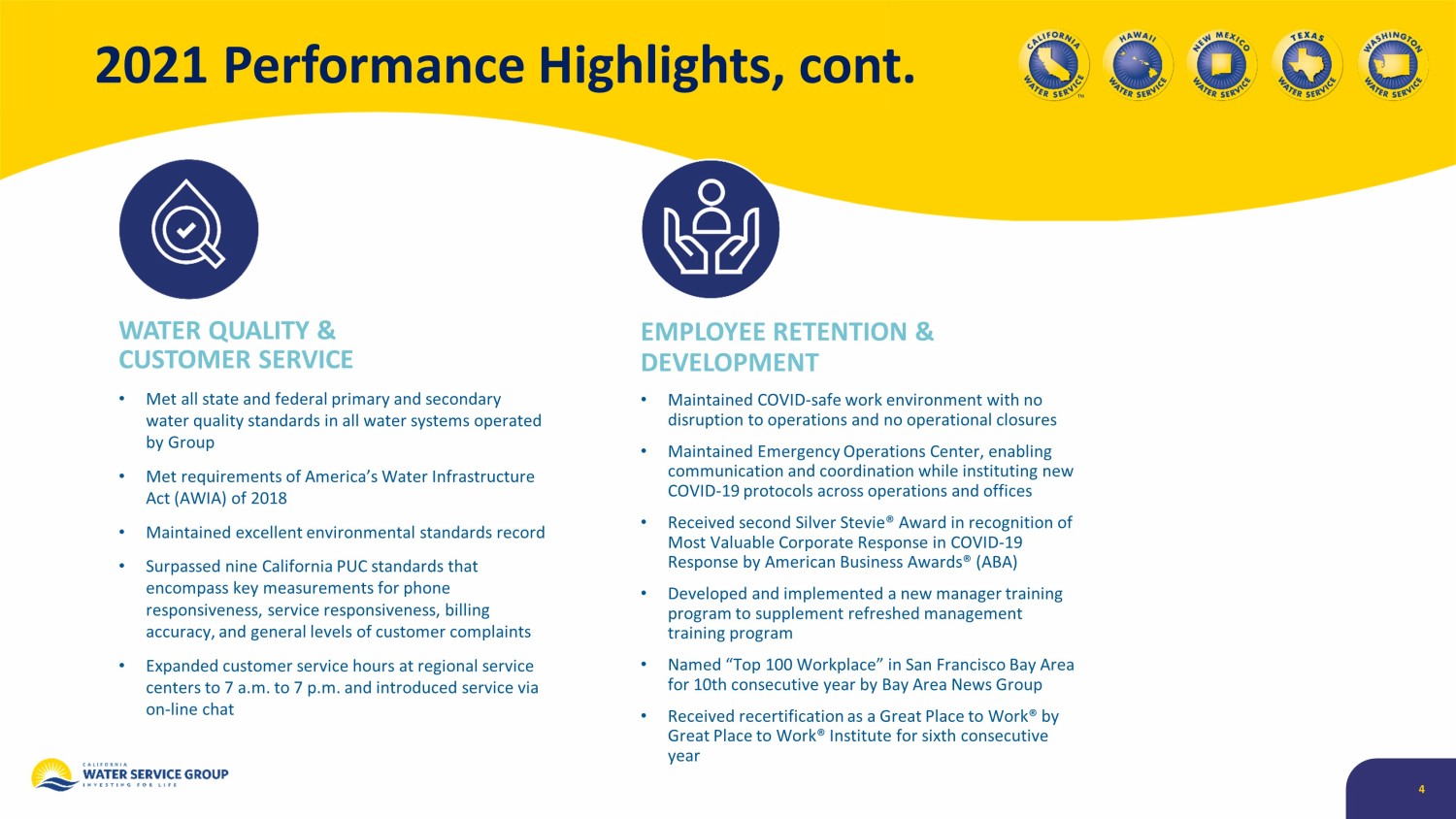 4 WATER QUALITY & CUSTOMER SERVICE • Met all state and federal primary and secondary water quality standards in all water systems operated by Group • Met requirements of America's Water Infrastructure Act (AWIA) of 2018 • Maintained excellent environmental standards record • Surpassed nine California PUC standards that encompass key measurements for phone responsiveness, service responsiveness, billing accuracy, and general levels of customer complaints • Expanded customer service hours at regional service centers to 7 a.m. to 7 p.m. and introduced service via on - line chat EMPLOYEE RETENTION & DEVELOPMENT • Maintained COVID - safe work environment with no disruption to operations and no operational closures • Maintained Emergency Operations Center, enabling communication and coordination while instituting new COVID - 19 protocols across operations and offices • Received second Silver Stevie® Award in recognition of Most Valuable Corporate Response in COVID - 19 Response by American Business Awards® (ABA ) • Developed and implemented a new manager training program to supplement refreshed management training program • Named " Top 100 Workplace" in San Francisco Bay Area for 10th consecutive year by Bay Area News Group • Received recertification as a Great Place to Work® by Great Place to Work® Institute for sixth consecutive year 2021 Performance Highlights, cont.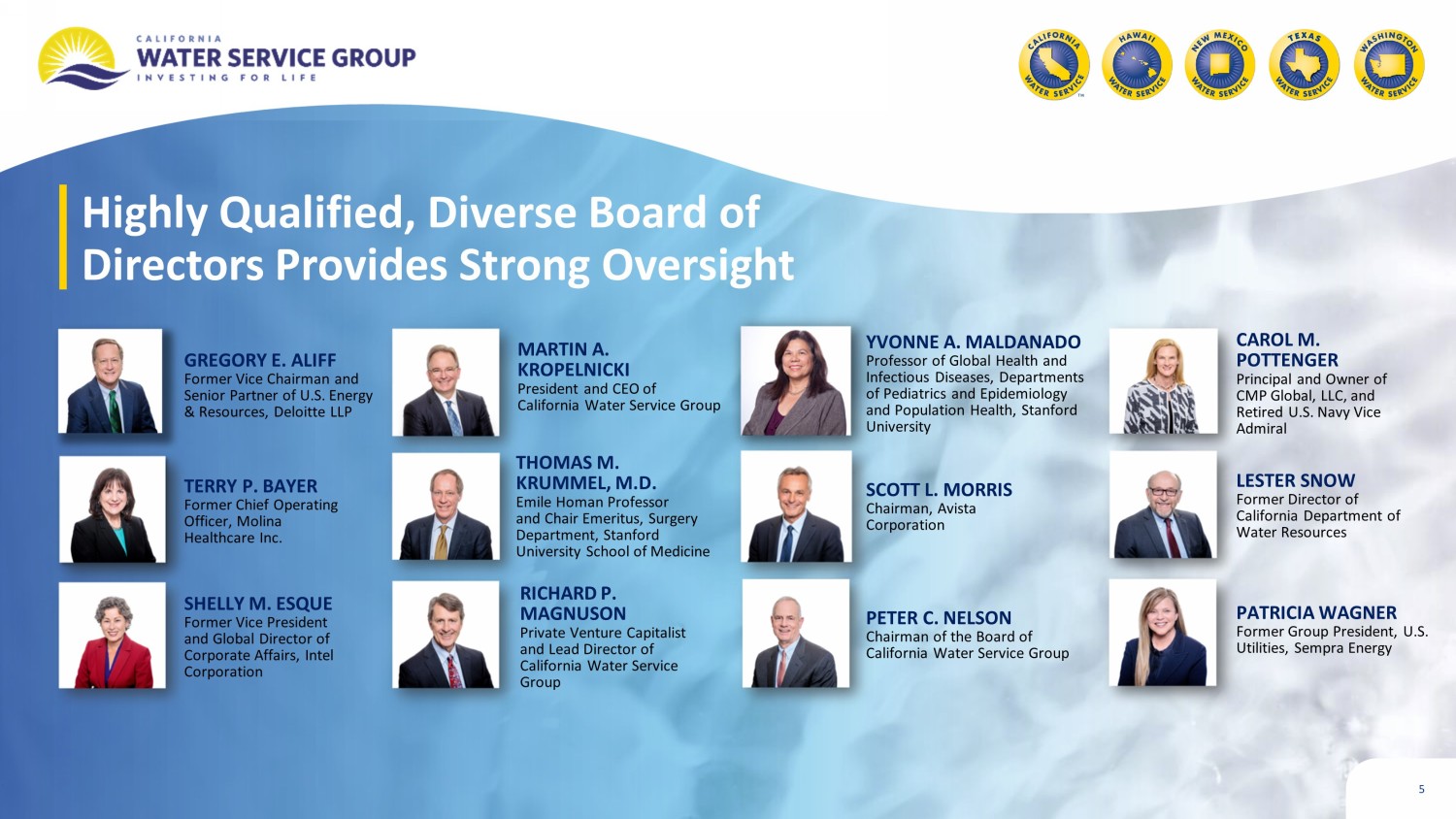 5 Highly Qualified, Diverse Board of Directors Provides Strong Oversight GREGORY E. ALIFF Former Vice Chairman and Senior Partner of U.S. Energy & Resources, Deloitte LLP TERRY P. BAYER Former Chief Operating Officer, Molina Healthcare Inc. SHELLY M. ESQUE Former Vice President and Global Director of Corporate Affairs, Intel Corporation MARTIN A. KROPELNICKI President and CEO of California Water Service Group THOMAS M. KRUMMEL, M.D. Emile Homan Professor and Chair Emeritus, Surgery Department, Stanford University School of Medicine RICHARD P. MAGNUSON Private Venture Capitalist and Lead Director of California Water Service Group YVONNE A. MALDANADO Professor of Global Health and Infectious Diseases, Departments of Pediatrics and Epidemiology and Population Health, Stanford University SCOTT L. MORRIS Chairman , Avista Corporation PETER C. NELSON Chairman of the Board of California Water Service Group CAROL M. POTTENGER Principal and Owner of CMP Global, LLC, and Retired U.S. Navy Vice Admiral LESTER SNOW Former Director of California Department of Water Resources PATRICIA WAGNER Former Group President, U.S. Utilities, Sempra Energy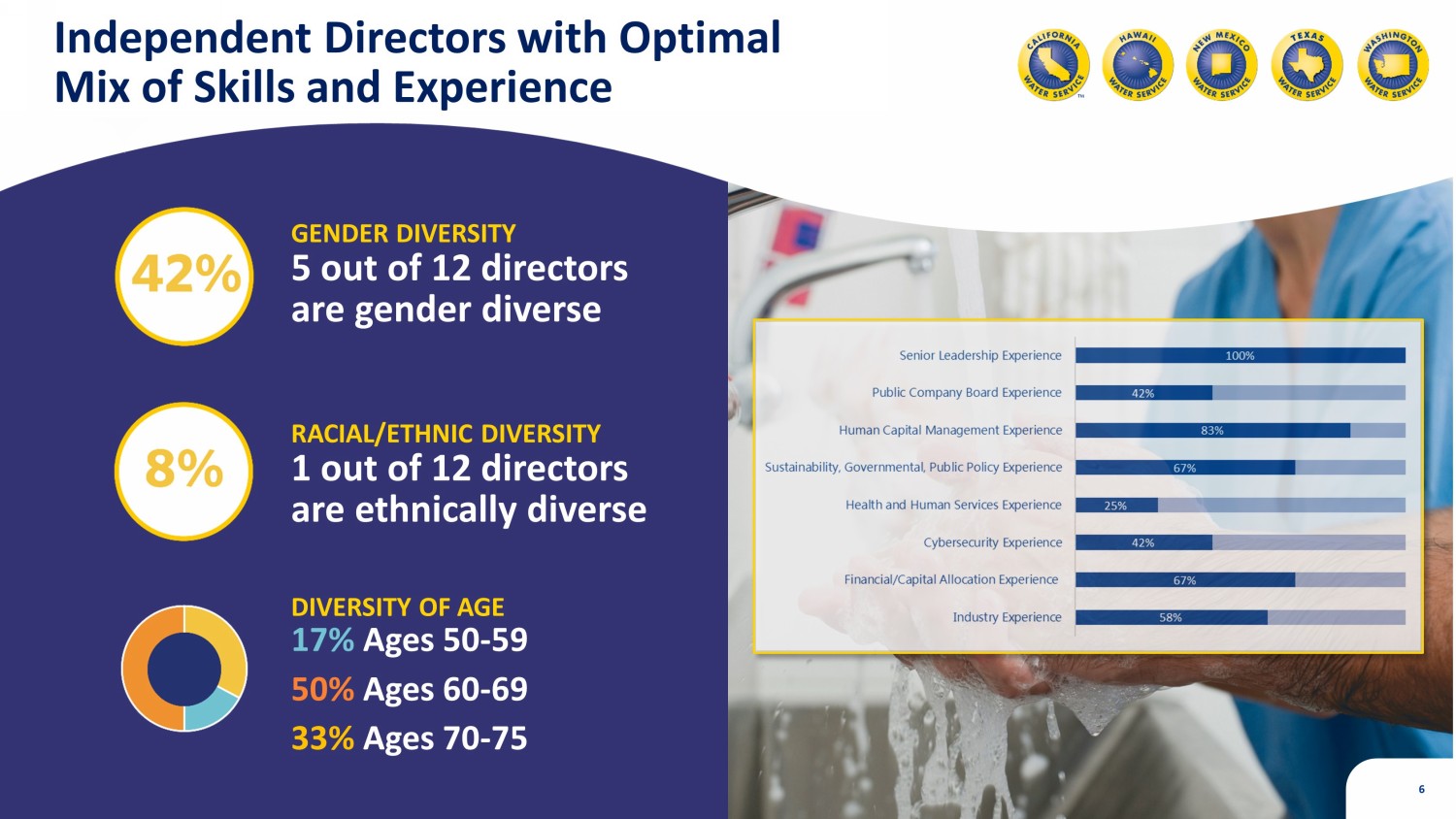 6 Independent Directors with Optimal Mix of Skills and Experience Exceptional Community Support GENDER DIVERSITY 5 out of 12 directors are gender diverse RACIAL/ETHNIC DIVERSITY 1 out of 12 directors are ethnically diverse DIVERSITY OF AGE 17% Ages 50 - 59 50% Ages 60 - 69 33% Ages 70 - 75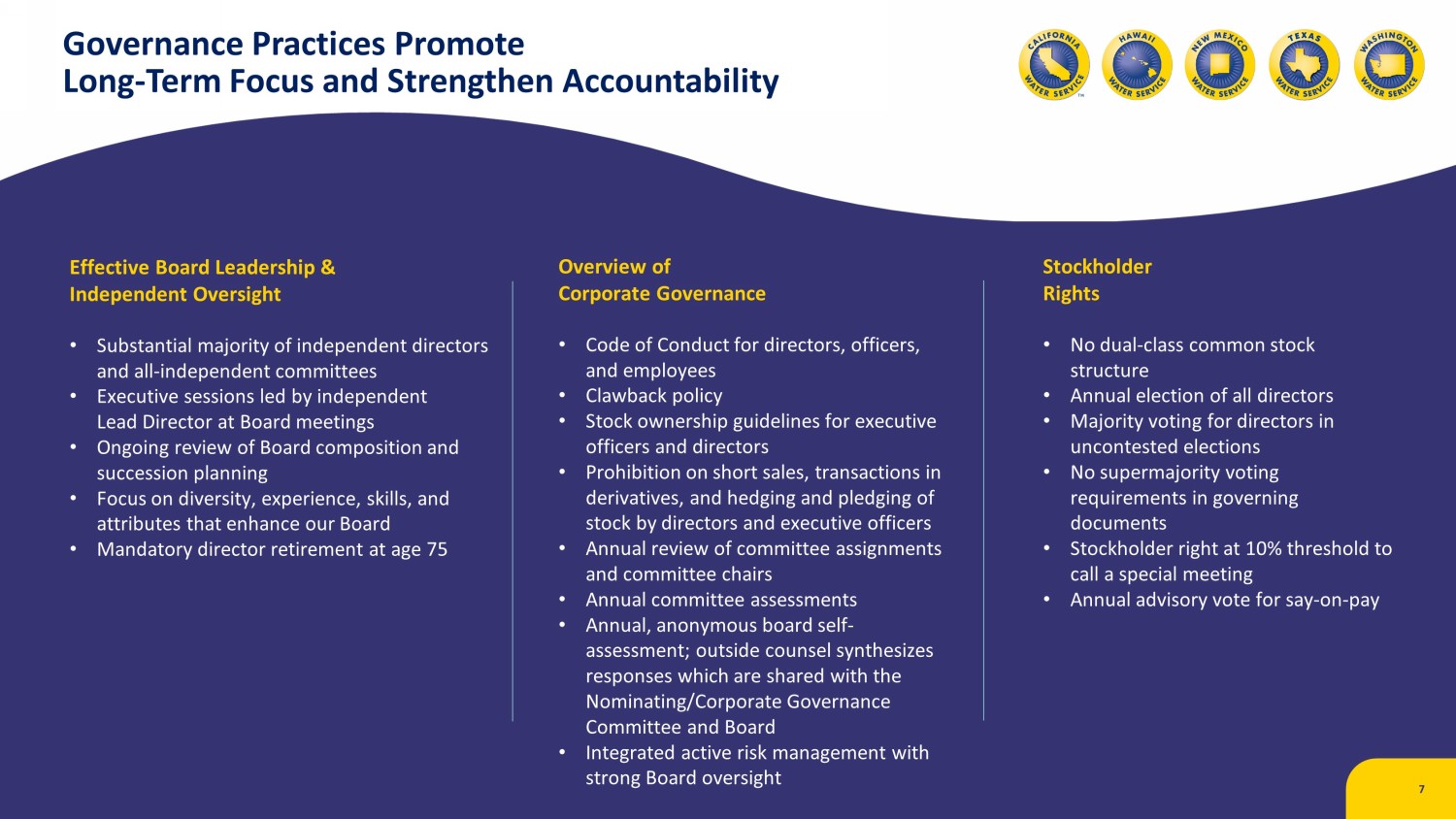 7 Effective Board Leadership & Independent Oversight • Substantial majority of independent directors and all - independent committees • Executive sessions led by independent Lead Director at Board meetings • Ongoing review of Board composition and succession planning • Focus on diversity , experience, skills, and attributes that enhance our Board • Mandatory director retirement at age 75 Governance Practices Promote Long - Term Focus and Strengthen Accountability Overview of Corporate Governance • Code of Conduct for directors , officers , and employees • Clawback policy • Stock ownership guidelines for executive officers and directors • Prohibition on short sales, transactions in derivatives, and hedging and pledging of stock by directors and executive officers • Annual review of committee assignments and committee chairs • Annual committee assessments • Annual, anonymous board self - assessment; outside counsel synthesizes responses which are shared with the Nominating/Corporate Governance Committee and Board • Integrated active risk management with strong Board oversight Stockholder Rights • No dual - class common stock structure • Annual election of all directors • Majority voting for directors in uncontested elections • No supermajority voting requirements in governing documents • Stockholder right at 10% threshold to call a special meeting • Annual a dvisory vote for say - on - pay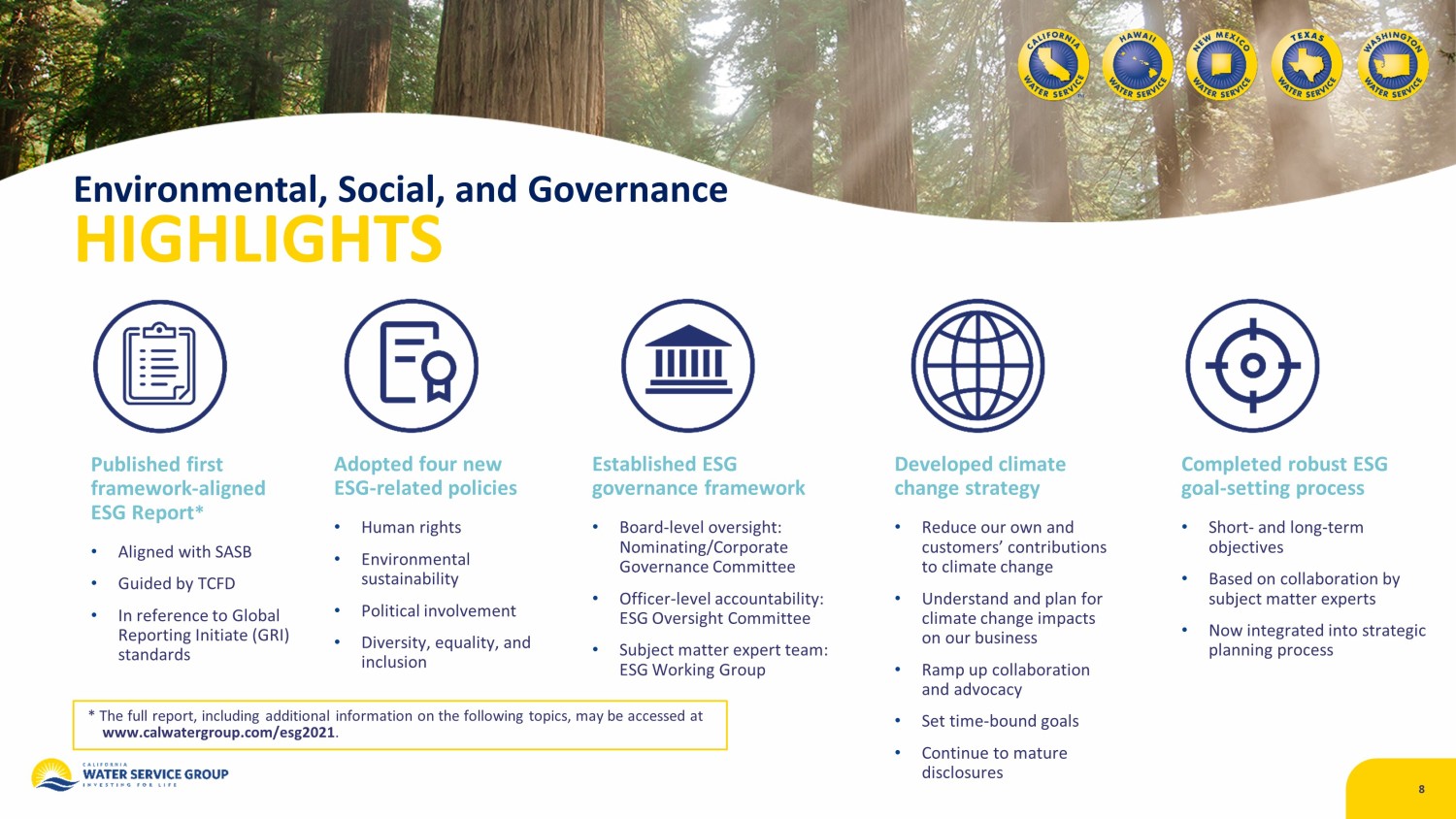 8 Environmental, Social, and Governance HIGHLIGHTS Published first framework - aligned ESG Report * • Aligned with SASB • Guided by TCFD • In reference to Global Reporting Initiate (GRI) standards Adopted four new ESG - related policies • Human rights • Environmental sustainability • Political involvement • Diversity, equality , and inclusion Established ESG governance framework • Board - level oversight: Nominating/Corporate Governance Committee • Officer - level accountability: ESG Oversight Committee • Subject matter expert team: ESG Working Group Developed climate change strategy • Reduce our own and customers ' contributions to climate change • Understand and plan for climate change impacts on our business • Ramp up collaboration and advocacy • Set time - bound goals • Continue to mature disclosures Completed robust ESG goal - setting process • Short - and long - term objectives • Based on collaboration by subject matter experts • Now integrated into strategic planning process * The full report , including additional information on the following topics, may be accessed at www.calwatergroup.com/esg2021 .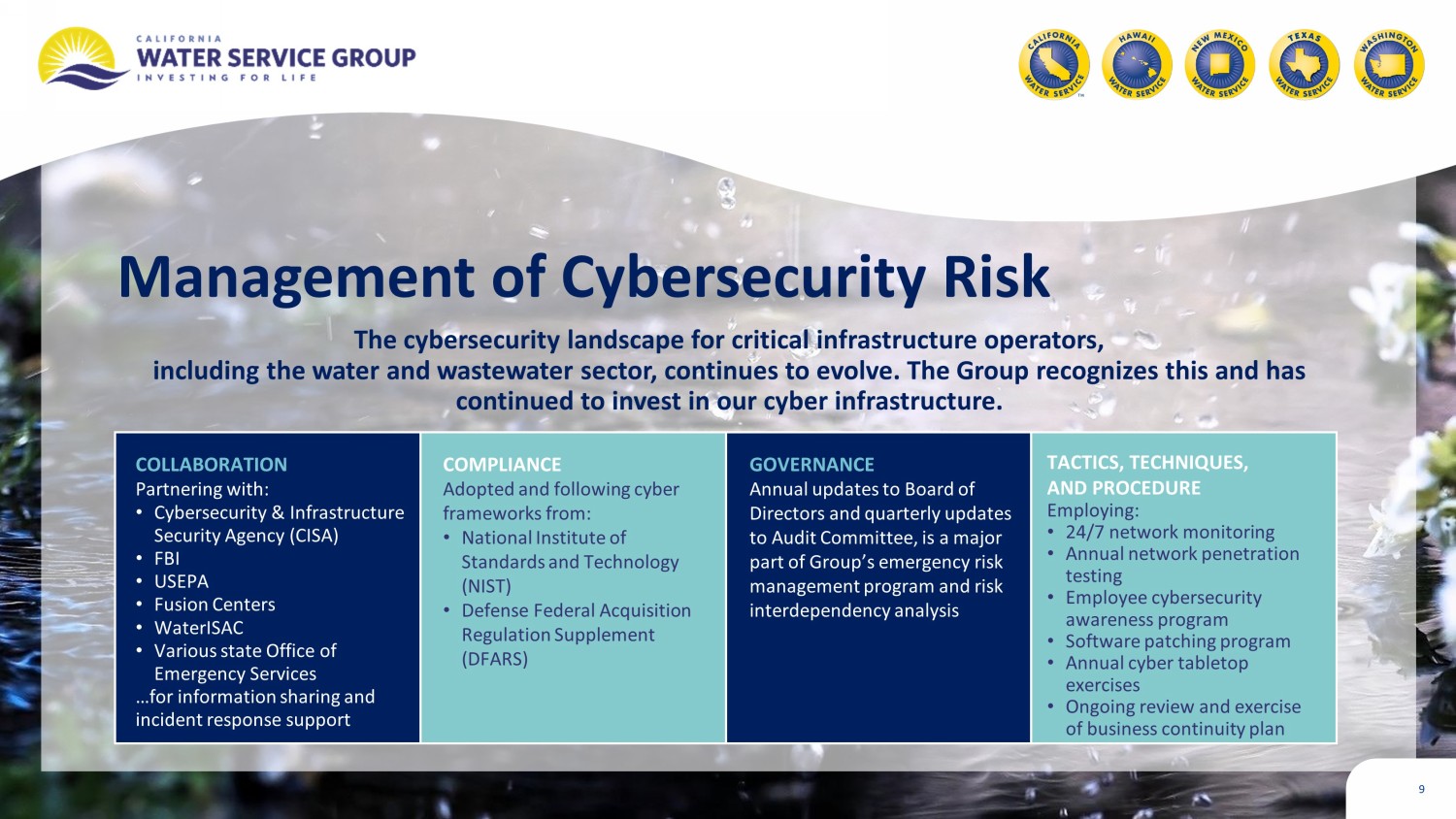 9 The cybersecurity landscape for critical infrastructure operators, including the water and wastewater sector, continues to evolve. The Group recognizes this and has continued to invest in our cyber infrastructure. Management of Cybersecurity Risk COLLABORATION Partnering with: • Cybersecurity & Infrastructure Security Agency ( CISA) • FBI • USEPA • Fusion Centers • WaterISAC • Various s tate Office of Emergency Services …for information sharing and incident response support COMPLIANCE Adopted and following cyber frameworks from: • National Institute of Standards and Technology ( NIST) • Defense Federal Acquisition Regulation Supplement (DFARS) GOVERNANCE A nnual updates to Board of Directors and quarterly updates to Audit Committee, is a major part of Group's emergency risk management program and risk interdependency analysis TACTICS, TECHNIQUES, AND PROCEDURE Employing: • 24/7 network monitoring • Annual network penetration testing • E mployee cybersecurity awareness program • Software patching program • Annual cyber tabletop exercises • O ngoing review and exercise of business continuity plan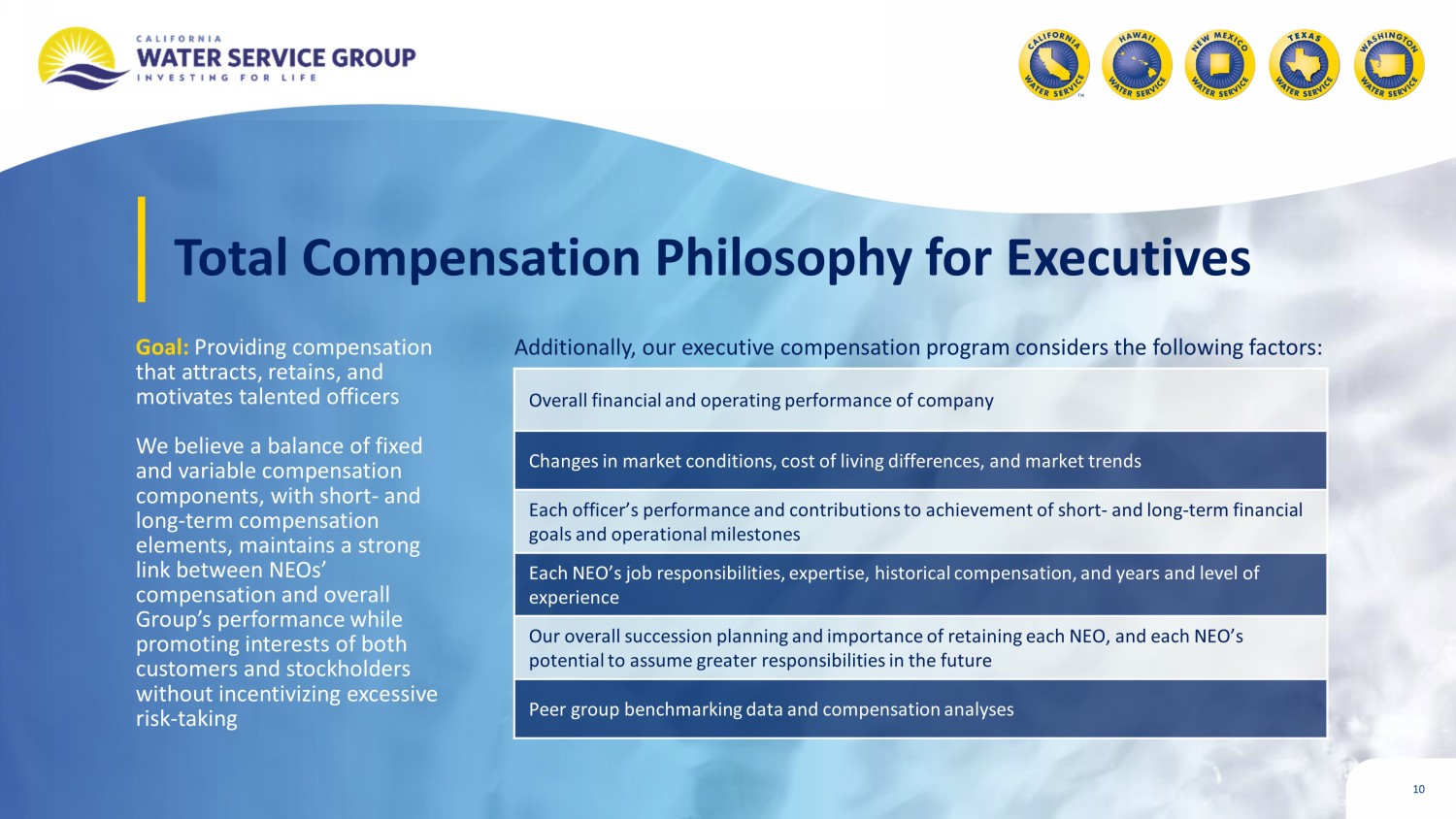 10 Total Compensation Philosophy for Executives Goal: Providing compensation that attracts, retains, and motivates talented officers We believe a balance of fixed and variable compensation components, with short - and long - term compensation elements , maintains a strong link between NEOs ' compensation and overall Group's performance while promoting interests of both customers and stockholders without incentivizing excessive risk - taking Additionally, our executive compensation program considers the following factors: Overall financial and operating performance of company Changes in market conditions, cost of living differences, and market trends Each officer's performance and contributions to achievement of short - and long - term financial goals and operational milestones Each NEO's job responsibilities, expertise, historical compensation, and years and level of experience Our overall succession planning and importance of retaining each NEO, and each NEO's potential to assume greater responsibilities in the future Peer group benchmarking data and compensation analyses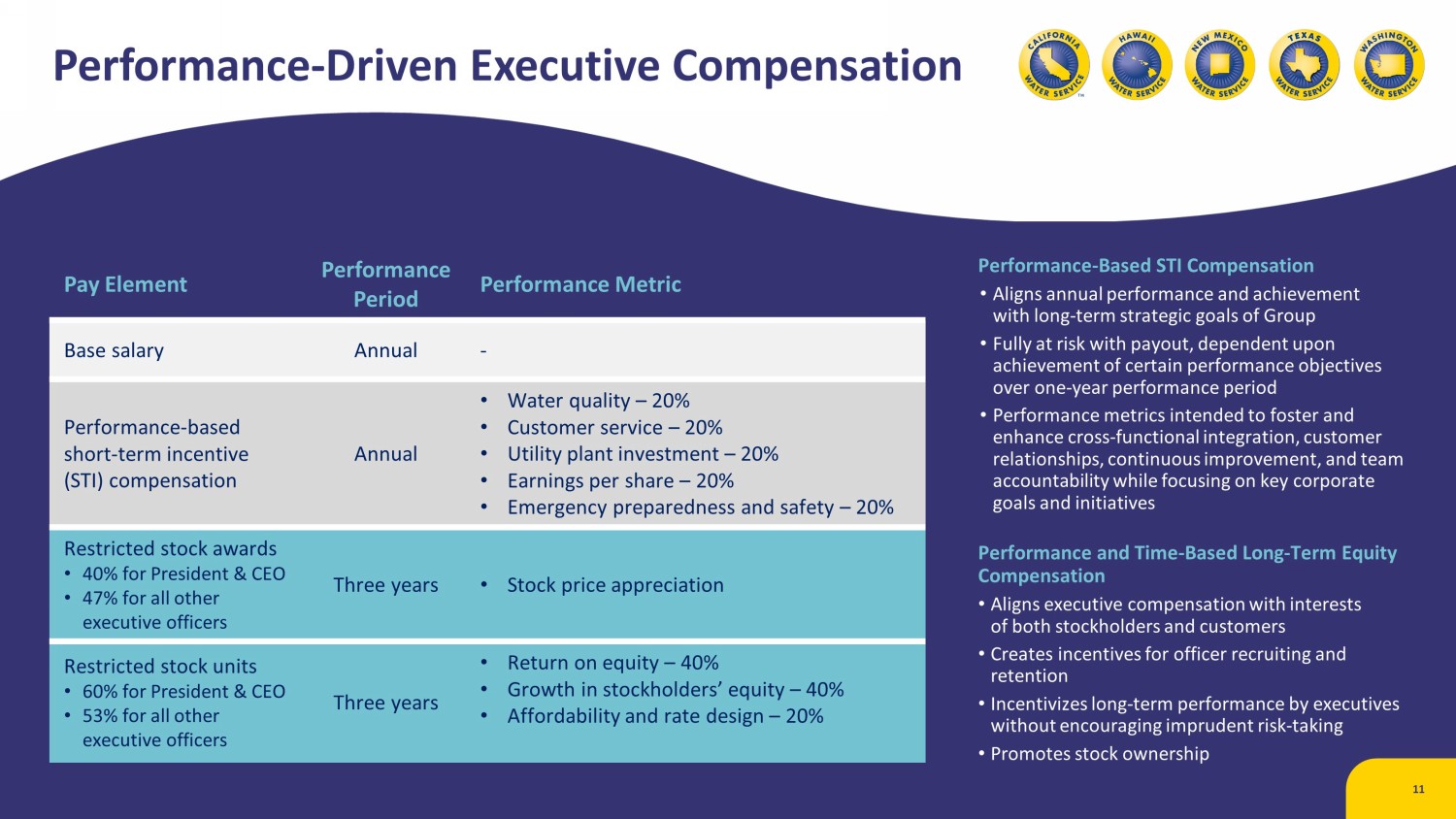 11 Performance - Driven Executive Compensation Pay Element Performance Period Performance Metric Base salary Annual - Performance - based short - term incentive (STI) compensation Annual • Water quality – 20% • Customer service – 20% • Utility plant investment – 20% • Earnings per share – 20% • Emergency preparedness and safety – 20% Restricted stock awards • 40 % for President & CEO • 47% for all other executive officers Three years • Stock price appreciation Restricted stock units • 60 % for President & CEO • 53% for all other executive officers Three years • Return on equity – 40% • Growth in stockholders ' equity – 40% • Affordability and rate design – 20% Performance - Based STI Compensation • Aligns annual performance and achievement with long - term strategic goals of Group • Fully at risk with payout, dependent upon achievement of certain performance objectives over one - year performance period • Performance metrics intended to foster and enhance cross - functional integration, customer relationships, continuous improvement, and team accountability while focusing on key corporate goals and initiatives Performance and Time - Based Long - Term Equity Compensation • Aligns executive compensation with interests of both stockholders and customers • Creates incentives for officer recruiting and retention • Incentivizes long - term performance by executives without encouraging imprudent risk - taking • Promotes stock ownership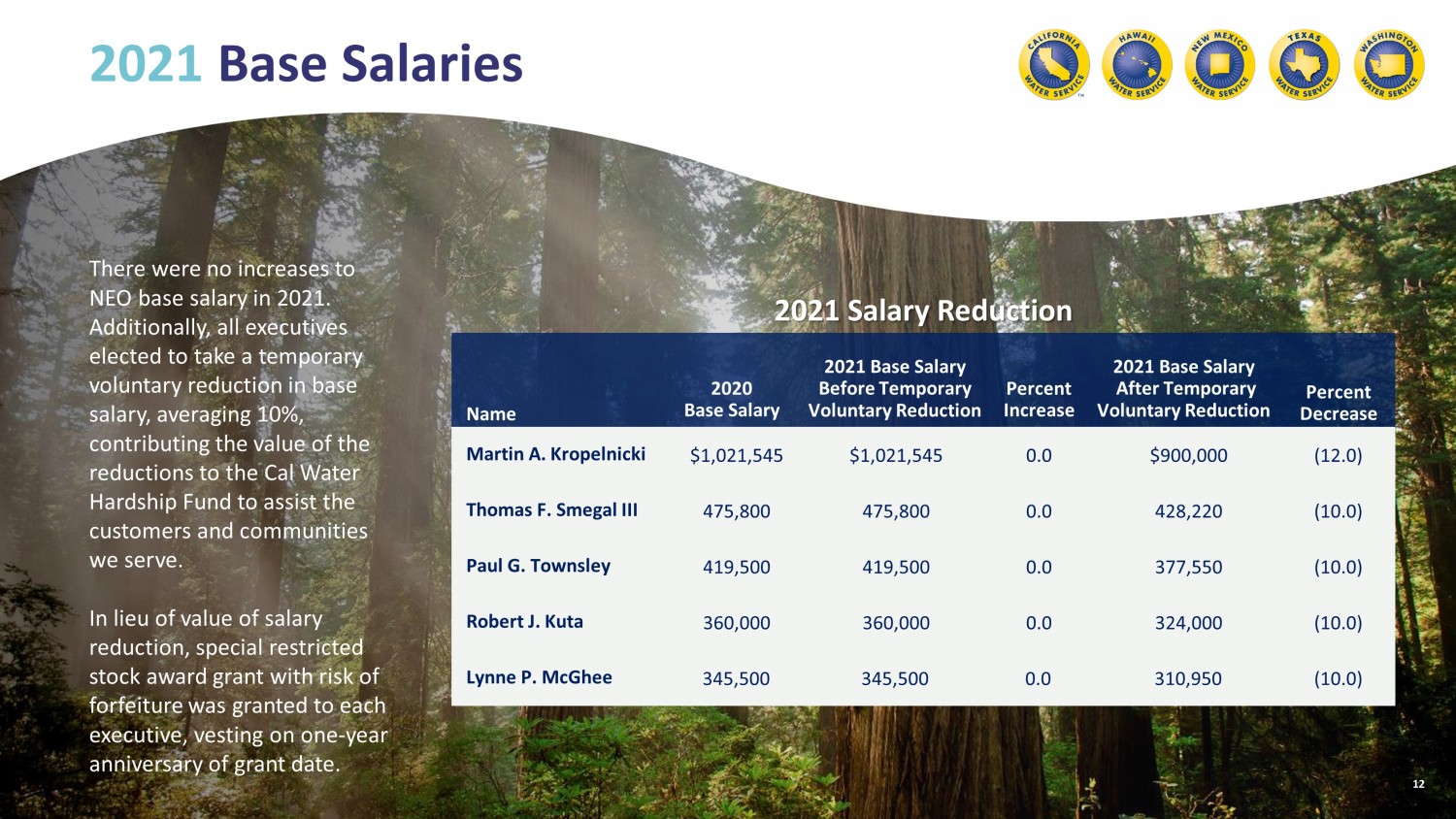 2021 Base Salaries 12 There were no increases to NEO base salary in 2021. Additionally, all executives elected to take a temporary voluntary reduction in base salary, averaging 10%, contributing the value of the reductions to the Cal Water Hardship Fund to assist the customers and communities we serve. In lieu of value of salary reduction, special restricted stock award grant with risk of forfeiture was granted to each executive, vesting on one - year anniversary of grant date. 2021 Salary Reduction Name 2020 Base Salary 2021 Base Salary Before Temporary Voluntary Reduction Percent Increase 2021 Base Salary After Temporary Voluntary Reduction Percent Decrease Martin A. Kropelnicki $1,021,545 $1,021,545 0.0 $900,000 (12.0) Thomas F. Smegal III 475,800 475,800 0.0 428,220 (10.0) Paul G. Townsley 419,500 419,500 0.0 377,550 (10.0) Robert J. Kuta 360,000 360,000 0.0 324,000 (10.0) Lynne P. McGhee 345,500 345,500 0.0 310,950 (10.0)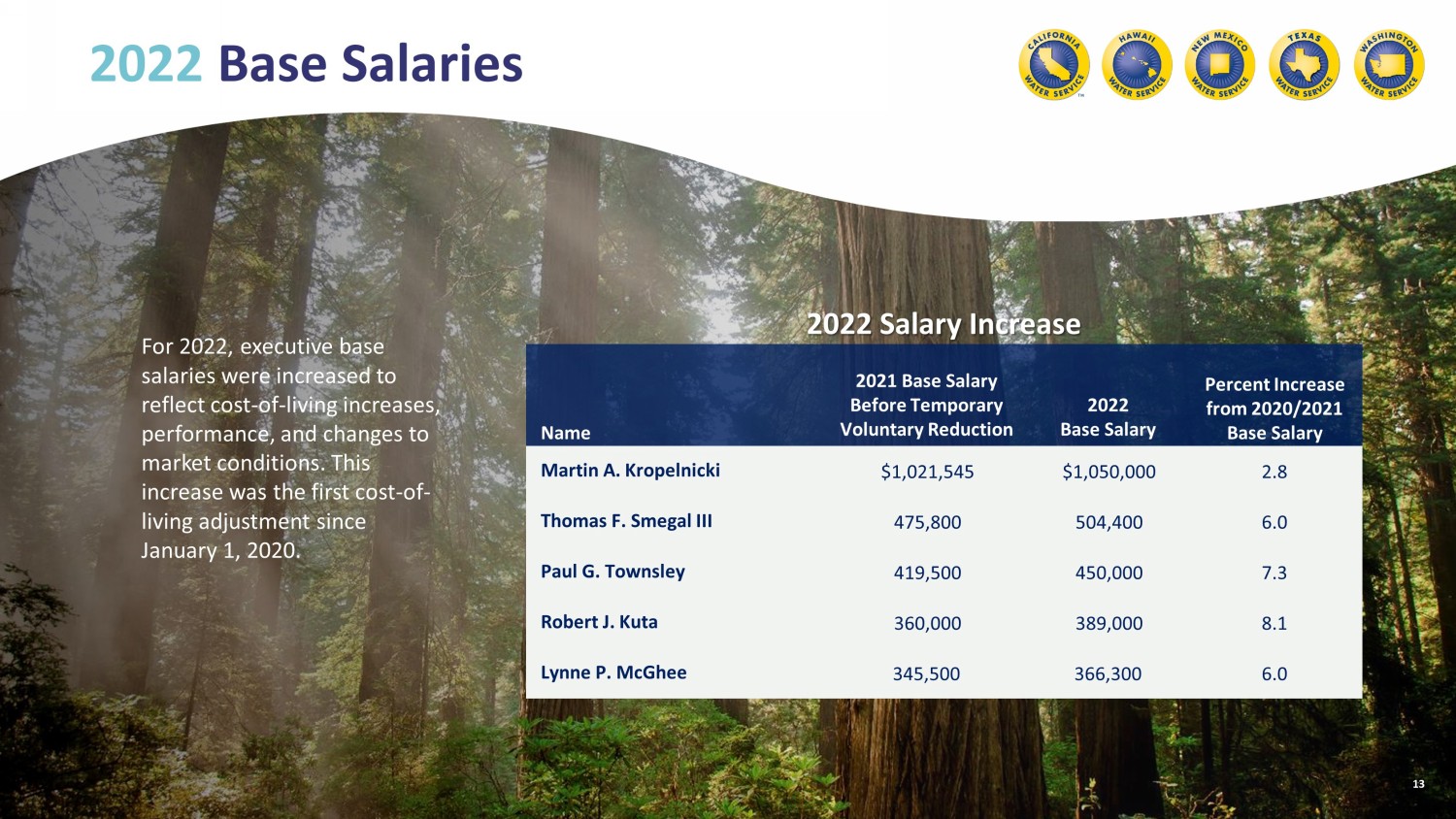 2022 Base Salaries 13 For 2022, executive base salaries were increased to reflect cost - of - living increases, performance, and changes to market conditions. This increase was the first cost - of - living adjustment since January 1, 2020. 2022 Salary Increase Name 2021 Base Salary Before Temporary Voluntary Reduction 2022 Base Salary Percent Increase from 2020/2021 Base Salary Martin A. Kropelnicki $1,021,545 $1,050,000 2.8 Thomas F. Smegal III 475,800 504,400 6.0 Paul G. Townsley 419,500 450,000 7.3 Robert J. Kuta 360,000 389,000 8.1 Lynne P. McGhee 345,500 366,300 6.0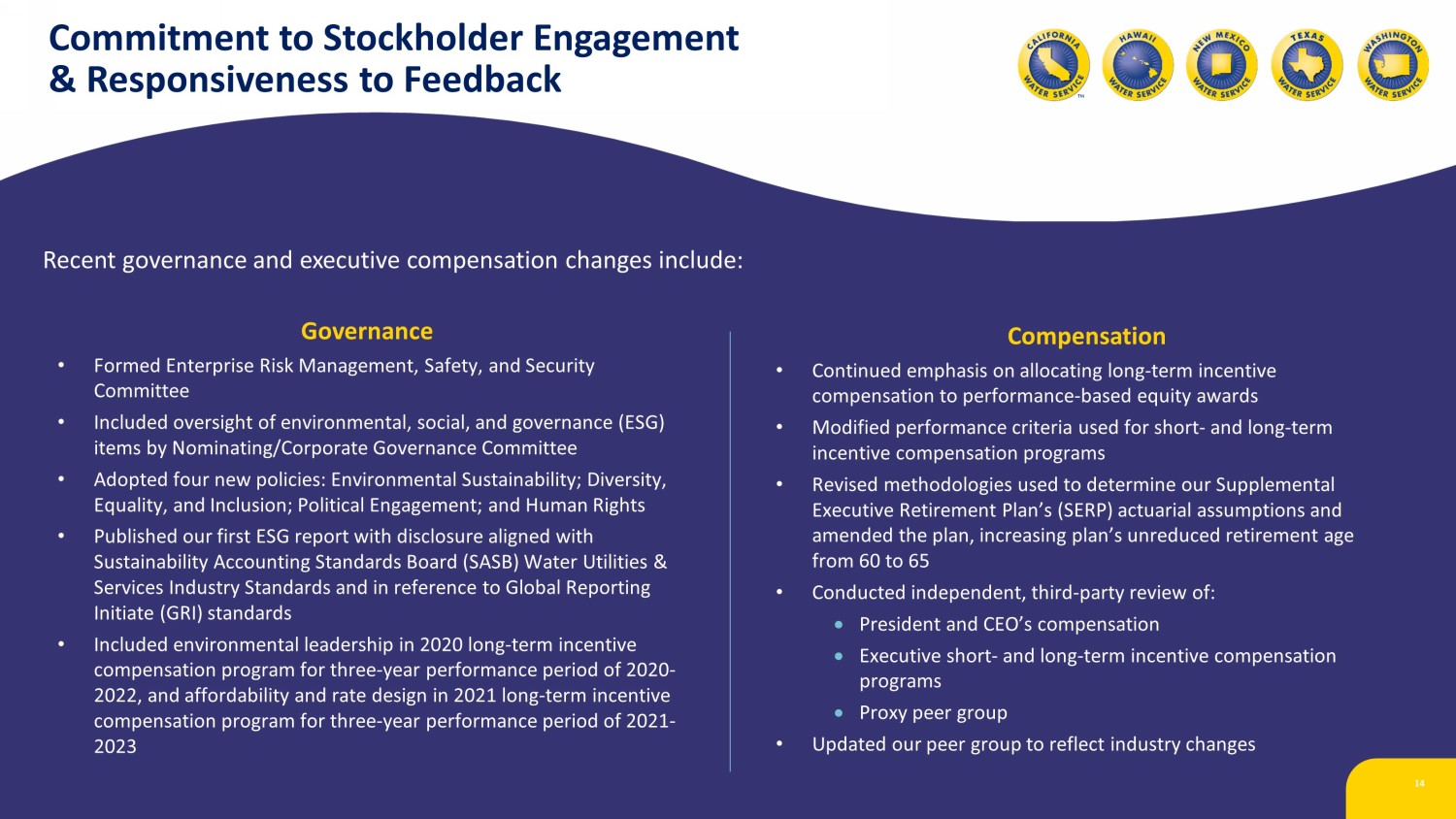 Commitment to Stockholder Engagement & Responsiveness to Feedback 14 Recent governance and executive compensation changes include: Governance • Formed Enterprise Risk Management, Safety, and Security Committee • Included oversight of environmental , social, and governance (ESG) items by Nominating/Corporate Governance Committee • Adopted four new policies: Environmental Sustainability; Diversity, Equality, and Inclusion; Political Engagement; and Human Rights • Published our first ESG report with disclosure aligned with Sustainability Accounting Standards Board (SASB) Water Utilities & Services Industry Standards and in reference to Global Reporting Initiate (GRI) standards • Included environmental leadership in 2020 long - term incentive compensation program for three - year performance period of 2020 - 2022, and affordability and rate design in 2021 long - term incentive compensation program for three - year performance period of 2021 - 2023 Compensation • Continued emphasis on allocating long - term incentive compensation to performance - based equity awards • Modified performance criteria used for short - and long - term incentive compensation programs • Revised methodologies used to determine our Supplemental Executive Retirement Plan's (SERP) actuarial assumptions and amended the plan , increasing plan's unreduced retirement age from 60 to 65 • Conducted independent , third - party review of: President and CEO's compensation Executive short - and long - term incentive compensation programs Proxy peer group • Updated our peer group to reflect industry changes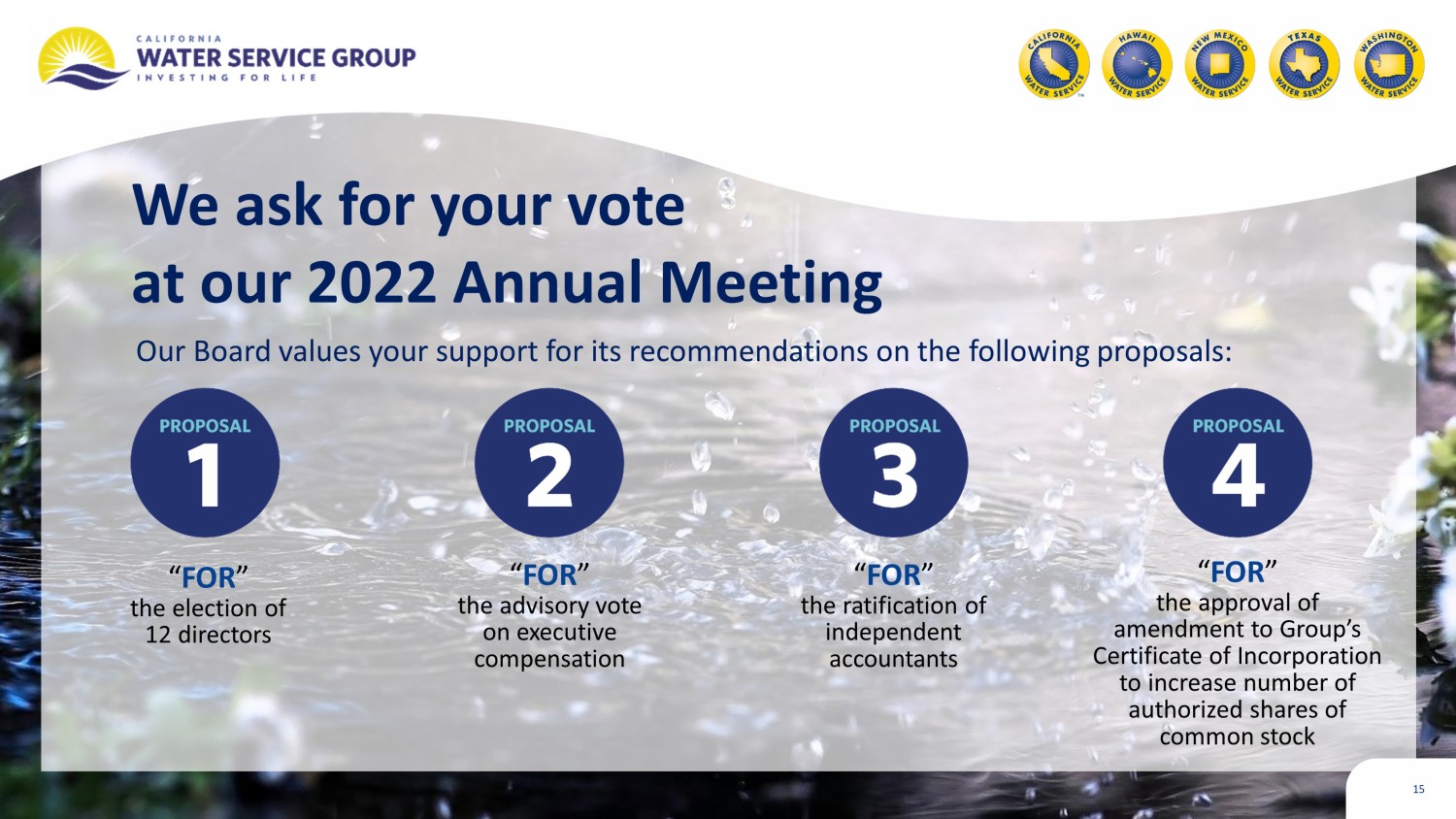 15 Our Board values your support for its recommendations on the following proposals: We ask for your vote at our 2022 Annual Meeting " FOR " the election of 12 directors " FOR " the advisory vote on executive compensation " FOR " the ratification of independent accountants " FOR " the approval of amendment to Group's Certificate of Incorporation to increase number of authorized shares of common stock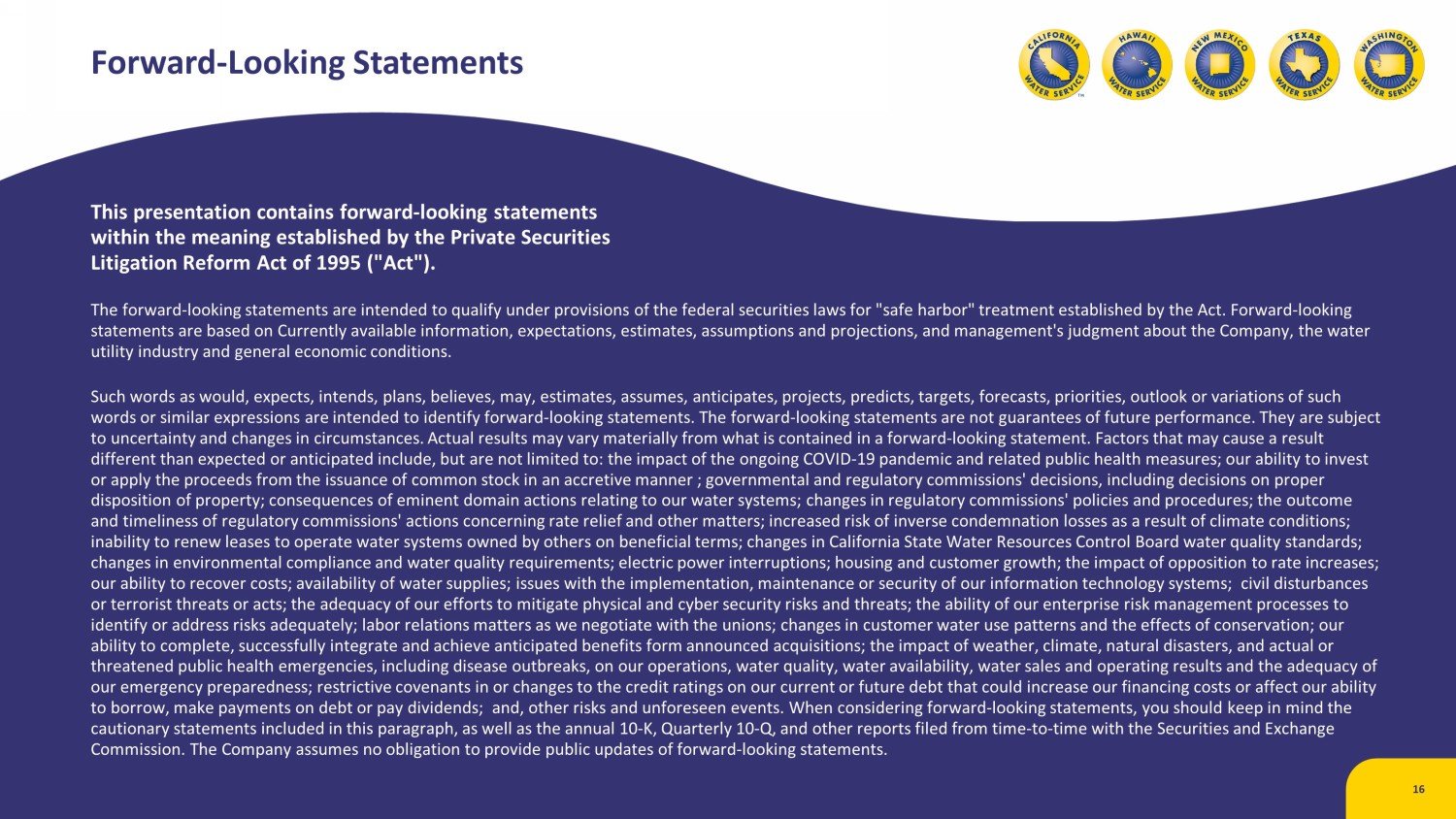 16 This presentation contains forward - looking statements within the meaning established by the Private Securities Litigation Reform Act of 1995 ("Act"). The forward - looking statements are intended to qualify under provisions of the federal securities laws for "safe harbor" treatme nt established by the Act. Forward - looking statements are based on Currently available information, expectations, estimates, assumptions and projections, and management 's judgment about the Company, the water utility industry and general economic conditions. Such words as would, expects, intends, plans, believes, may, estimates, assumes, anticipates, projects, predicts, targets, forecas ts, priorities, outlook or variations of such words or similar expressions are intended to identify forward - looking statements. The forward - looking statements are not guarant ees of future performance. They are subject to uncertainty and changes in circumstances. Actual results may vary materially from what is contained in a forward - looking stat ement. Factors that may cause a result different than expected or anticipated include, but are not limited to: the impact of the ongoing COVID - 19 pandemic and related public health measures; our ability to invest or apply the proceeds from the issuance of common stock in an accretive manner ; governmental and regulatory commissions' dec isi ons, including decisions on proper disposition of property; consequences of eminent domain actions relating to our water systems; changes in regulatory commissi ons ' policies and procedures; the outcome and timeliness of regulatory commissions' actions concerning rate relief and other matters; increased risk of inverse condemn ati on losses as a result of climate conditions; inability to renew leases to operate water systems owned by others on beneficial terms; changes in California State Water Res our ces Control Board water quality standards; changes in environmental compliance and water quality requirements; electric power interruptions; housing and customer growth ; t he impact of opposition to rate increases; our ability to recover costs; availability of water supplies; issues with the implementation, maintenance or security of our inf ormation technology systems; civil disturbances or terrorist threats or acts; the adequacy of our efforts to mitigate physical and cyber security risks and threats; the abil ity of our enterprise risk management processes to identify or address risks adequately; labor relations matters as we negotiate with the unions; changes in customer water use pat terns and the effects of conservation; our ability to complete, successfully integrate and achieve anticipated benefits form announced acquisitions; the impact of weath er, climate, natural disasters, and actual or threatened public health emergencies, including disease outbreaks, on our operations, water quality, water availability, wate r s ales and operating results and the adequacy of our emergency preparedness; restrictive covenants in or changes to the credit ratings on our current or future debt that coul d i ncrease our financing costs or affect our ability to borrow, make payments on debt or pay dividends; and, other risks and unforeseen events. When considering forward - looking sta tements, you should keep in mind the cautionary statements included in this paragraph, as well as the annual 10 - K, Quarterly 10 - Q , and other reports filed from time - to - time with the Securities and Exchange Commission. The Company assumes no obligation to provide public updates of forward - looking statements. Forward - Looking Statements